May 2010 Numerology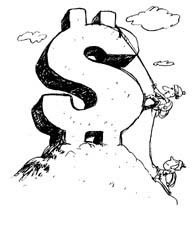 The main number vibrations dominating May will be the number 8 and the number 3. May will be an 8 universal month in a 3 universal year. In numerology, the number 8 is mainly a symbol of money, materialism, business, and power. When the eight relates to world events, such as in May 2010, this is going to equal a major headline or headlines as it relates to a loss or gain of significant amounts of money, such as totaling in the millions or billions of dollars worth. Money and power will be the main themes of May 2010.
Again when it comes to the 8 universal month - which May is an eight universal month - the news headlines will most likely be significant for a large financial gain or loss or both. This most likely will be some large figure, such as millions and billions gained or loss. Financial and business news are the main highlights of May. On a smaller scale, and on a more personal level, this will translate to May being generally a month where we are experiencing some sort of significant financial changes, either we are shopping and spending a bit more than usual, possibly we are being hit with a large unexpected bill(s), or we could be reaping financial rewards in the form of unexpected cash landing in our laps. If you want to know what is specifically in your numerology chart based on your date of birth you can
click here to view which readings
I presently have available.
If a disaster occurs we may hear of how much material damage it caused and how much dollars worth of damage was caused. There is also vibration attached to May causing everything to happen so suddenly and unexpectedly, so that we wake up to such sudden news of some out of the ordinary event taking place. Due to May being representative of power, we may hear of acts related to all sorts of political fights and power struggles and significant issues related to those in power. Someone could be coming into power or leaving a political position. We could hear of millions or billions of dollars worth of material or property damage caused by a disaster or event. Cool expensive gadgets are usually released in an eight vibration that causes a spending frenzy, such as in our last 8 vibrational year, in which Nintendo Wii and PlayStation 3 were released.
May will also be affected by the 3 universal year. The three universal year makes especially significant news when it comes to celebrities and entertainment, but the most significant vibration of the three universal year is the death of legendary people. I mentioned all of this around January 15th of this year, since then we have suffered the loss of many legendary people without a doubt and sadly it is going to continue as long as we are actively in a 3 universal year. The 3 vibration is the year of stars. Legends are born and true stars and legends often depart in a 3 vibration.
Click here to read my
January post
if you have not already read it.
There is also a five vibration attached to May and will of course always be attached to May, since May will always be the five month of a year. The number five vibration generally brings an unpredictable, wild vibration with it. When it comes to world events this usually indicative of significant news related to wild weather and natural disasters,especially weird/wild tornadoes and hurricane weather. The five also relates to travel and spacecrafts- especially news regarding planes or spacecrafts.
We are already near the end of April and today I woke up to online (8 vibrational) headlines. One headline read ...
due the volcanic ash crisis, airlines have lost at the very least $1.7 billion in sales!...
I checked the frontpage headlines again and it has been announced that:
...
the $100 bill is getting a makeover to thwart counterfeiters
...
...."GM repays $8.1 billion in gov't loans from U.S., Canada..."
...$1 million embezzled from Danielle Steel....
April is not fully over and yet it seems as if the 8 vibration is kicking in already!
I am noticing something else as I am writing... Take a look at the figures I mentioned. These figures are taken straight from today's news headlines. You can visibly spot the 8 vibration in the headlines. You can also spot the number one in all of the headlines...
...."GM repays $
8
.1 billion in gov't loans from U.S.,
... due the volcanic ash crisis, airlines have lost at the very least
$1.7
billion in sales 1.7 = 1 + 7 =
8
May in some form will prove to be a costly month or a month of significant financial gain, especially for some business or country/state/city/area. All the headlines mentioned are perfect examples of a bit of what to expect in May 2010. Below are examples of past events that I have selected that demonstrates the 8 vibration in action.
2006 Was An 8 Universal Year
In May we will be in an eight universal month, below are examples of past eight vibrational events of 2006...
January 4 – Powers are transferred from Israeli Prime Minister Ariel Sharon to his deputy, Vice Prime Minister Ehud Olmert, after Sharon suffers a massive hemorrhagic stroke.[5]
January 9 – The Dow Jones Industrial Average closes above 11,000 (11,011.90) for the first time since June 7, 2001
January 27 – Manuel Zelaya becomes President of Honduras.
February 1 – UAL Corporation, United Airlines' parent company, emerges from bankruptcy after being in that position since December 9, 2002, the longest such filing in history.[27]
February 22 – Over £53.1 million is stolen during the Securitas depot robbery, the largest ever cash robbery in the United Kingdom.[35][36
February 25 – Uganda's President Yoweri Museveni wins his second re-election,[40][41] sparking riots in Kampala by opposition supporters.[42]
March 16 – The Blu-ray Disc format is released in the United States
March 22 – The Federal Reserve stops the publishing of M3 money supply data.
April 9 – Israeli Prime Minister Ariel Sharon is removed from office after 4 months in a coma
April 17 – An Islamic Jihad suicide bombing in Tel Aviv kills 9 people and injures dozens
June 6 – The Union of Islamic Courts gains control of Somalia's capital Mogadishu, ending warlord rule of the city.[82]
June 9 – An explosion kills 8 Palestinian civilians on a Gaza beach; Israel denies responsibility for the blast.[86][87]
June 25 – Warren Buffett donates over US$30 billion to the Bill & Melinda Gates Foundation.[93]
July 31 – Cuban president Fidel Castro temporarily relinquishes power to his brother Raúl before surgery.[105
September 19 – Prime Minister Thaksin Shinawatra of Thailand declares a state of emergency in Bangkok as members of the Royal Thai Army stage a coup d'état. The army announces the removal of Prime Minister Thaksin Shinawatra from power.[125]
October 10 – Google buys YouTube for USD $1.65 billion.[131]
October 16 – A magnitude 6.7 earthquake rocks Hawaii, causing property damage, injuries, landslides, power outages, and the closure of Honolulu International Airport. see 2006 Hawaii Earthquake.
November 2 – No. 5, 1948 by Jackson Pollock becomes the most expensive painting after it was sold privately at $140 million.[140]
November 17 – The PlayStation 3 is released in North America.[147]
November 19 – The Wii is released in North America.[148]
December 1 – Felipe Calderón takes office as President of Mexico.[156]
December 3 – Ed Stelmach is elected the new Leader of the Progressive Conservatives, Alberta, after the second ballot results, and second choice votes for Ted Morton have been added up. Ed becomes the Premier-designate of Alberta.[161]
December 3 – Hugo Chávez is re-elected President of Venezuela.[162]
December 15 – King Jigme Singye Wangchuck of Bhutan abdicates in favour of his son Jigme Khesar Namgyal Wangchuck, a year earlier than expected.[176]
December 26 – The Hengchun earthquake in Taiwan kills 2 people, and damages about 15 historical buildings and several undersea cables, disrupting Internet and IDD telecommunication services in Asia.[184]
December 30 – Saddam Hussein, former Iraq president, is executed in Baghdad.[186]
Source of Events Listed
This numerology prediction for May 2010 is complete. Pay close attention to your source for headline news and don't forget what was written here...
Stroke Symptoms
If you think someone may be having a stroke, act F.A.S.T. and do this simple test:
Act
F.A.S.T.
F
ACE
Ask the person to smile.
Does one side of the face droop?
A
RMS
Ask the person to raise both arms.
Does one arm drift downward?
S
PEECH
Ask the person to repeat a simple sentence.
Are the words slurred? Can he/she repeat the sentence correctly?
T
IME
If the person shows any of these symptoms, time is important.
Call 911 or get to the hospital fast.
Click Here For More info....